Tax Forms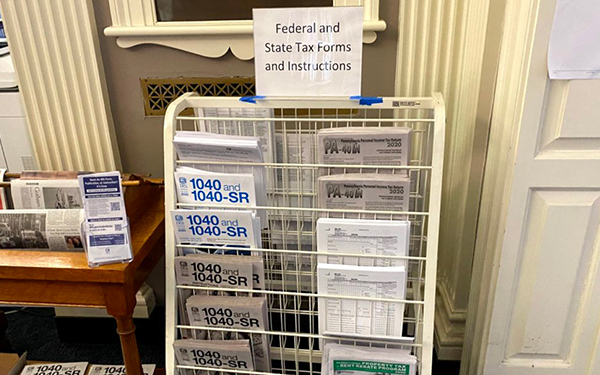 The library has Federal tax forms! We currently have the following forms and instructions:
1040 and 1040-SR form booklets
1040 and 1040-SR instructions
We are trying to get PA-40 Forms & Instructions, and PA-1000 Property Tax/Rent Rebate Program booklets. Please check back at a later date.
Is there a tax form you are unable to find? We might be able to help! We can print out tax forms/instructions for $.10/per page. Ask a librarian for help, or call the Main Desk at 610-374-2385.
---
Free tax assistance is available from VITA (Volunteer Income Tax Assistance) from now until Monday, April 18th, 2022.
To contact them, call 610-380-9099 or visit https://chestercountyfreetaxes.org/locations-to-serve-you
---
To print out tax forms from the Internet, visit the sites below:
Federal
This year we will only be receiving copies of 1040 form and instructions, and schedules 1-6.
To print copies of Federal tax forms from the internet, visit:
www.irs.gov/formspubs/
State
To print copies of Pennsylvania tax forms from the Internet, visit:
www.revenue.pa.gov/FormsandPublications/Pages/default.aspx
Additional forms are available at the PA Department of Revenue office in Reading (625 Cherry St, Reading PA 19602 / phone: 610-378-4401).
You may also call 1-888-PATAXES (1-888-728-2937) and leave a message to have tax forms mailed to you.
County
To print copies of Berks County tax forms from the Internet, visit:
www.berkseit.com