Movie Nights
Bring your dinner and enjoy the show! We will provide the popcorn. No registration is required.
---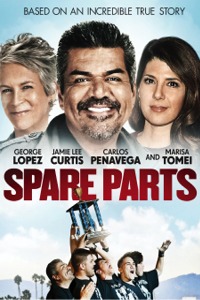 Film and Discussion: Spare Parts
Tuesday, Oct
ober

.

16, 2018
6:00

p.m.

Come watch the film Spare Parts, about four Hispanic teenagers who, inspired by a teacher, take it upon themselves to challenge MIT in a Robotics championship. A discussion will follow the film, with members of the Greater Reading Immigration Project (GRIP). Rated PG-13.
---
The Addams Family
Wednesday, Oct
ober

.

31, 2018
6:00

p.m.

When long-lost Uncle Fester reappears after twenty-five years in the Bermuda Triangle, the other members of the off-beat Addams clan plan a great celebration, only to begin to suspect that he may not be who he claims to be. Based on the classic 1960s TV series. Rated PG-13.