Summer Block Party & Yard Sale
Saturday, August. 17, 2019
→ Yard Sale:8:00 a.m.to1:00 p.m.
→ Block Party:10:00 a.m.to1:00 p.m.
→ Blood Drive:9:00 a.m.to12:30 p.m.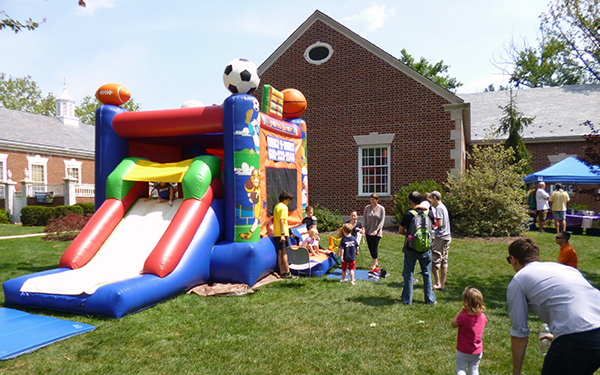 The Library is once again teaming up with the Wyomissing Police and Fire Departments for an unforgettable block party event! What's happening? Yard sale, touch-a-truck, bouncy house, yard games, music, food and more!
Teen Advisory Board will have a thrift store and bake sale, plus volunteering opportunities to help with various activities throughout the day.
In addition, the Miller-Keystone Blood Center will be holding a blood drive from 9:00 a.m. to 12 noon. To schedule an appointment, call the Library at 610-374-2385, or visit www.GIVEaPINT.org (use sponsor code 8179).
---
Rules for the 2019 Wyomissing Public Library Yard Sale:
Setup times: Setup times will be between 7:00 - 8:00

a.m.

Please do not arrive any earlier. Vehicles may be used to unload in front of the library until 7:30am at which time all vehicles must be moved to the designated parking area.
Reservations: If you have a reserved spot and are unable to attend, you may transfer your spot to another person. In the event of a transfer the library will need to be notified by Saturday, August 10, 2019 of the change. No cancellations will be accepted and no refunds will be issued. Reserved spots will be held until 7:30 a.m., at which time they may be reassigned to a walk-in customer. The library will provide the tables and a space of yard.
Sales: No selling of food, snacks, drinks, alcohol, fireworks, guns, knives, weapons, pornographic material, illegal merchandise, or counterfeit items will be tolerated.
Parking: During the yard sale, all vehicles should be parked on Reading Blvd. between Franklin St. & Wayne Ave. Please honor all traffic cones and "No Parking" signs.
Clean-up: Please remove all trash from your space prior to vacating the block party.
Cancellations: There is no rain date for the block party or yard sale. If it rains, the yard sale will be moved into the library's Community Room.
No Smoking: Smoking is prohibited on library grounds, including the yard sale location.
If you have any questions, please contact Colleen Stamm at colleen@wyopublib.org or call the Library at 610-374-2385.
Click below for the Yard Sale Order Form: