Freymoyer Farm Christmas Trees
If you purchase your tree this year from Freymoyer Farms Christmas Trees, a portion of the proceeds will go to support the Library! Wyomissing Public Library will receive $5 on any purchase of $40 or more, or $10 on any tree purchase of $70 or more. Make sure to print the coupon below and bring it with you: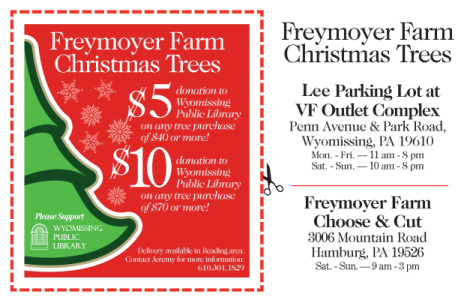 Freymoyer Farm Christmas Trees are available at the Lee Parking Lot at VF Outlet Complex (Penn Ave and Park Rd, Wyomissing, PA 19610) and at Freymoyer Farm Choose & Cut (3006 Mountain Rd, Hamburg, PA 19526). Delivery is available in the Reading area (contact Jeremy for more information: 610-301-1829).